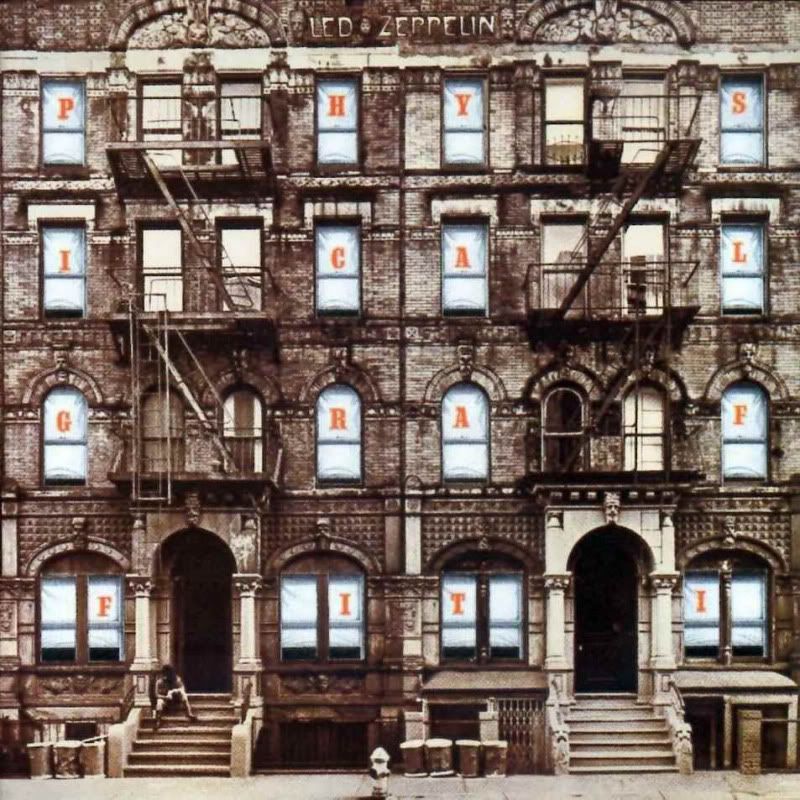 My membership in the highly prestigious Madison Institute of Musicologists (MIM) has offered many privileges through the years. This is the group who is responsible for the Top Ten Albums of the Year lists (and the aforementioned Top Ten night). Recently, a gauntlet was thrown down: list the Top Fifteen Albums That Define Your High School Experience. This was a wonderful exercise, that I fully enjoyed. Below is my recap. Enjoy.

A prelude: The moment when Jimmy Page goes up a note during the solo of Whole Lotta Love on Led Zeppelin II was as if I had discovered the Holy Grail, and that nobody had ever found that moment before (well, Porter had). This was the moment my entire high school musical experience was based on. I'm sure there are millions of people with this identical understanding.
Importantly, if I had been born a few years earlier and only had tapes, then the REPEAT button would not been invented on CD players yet, and thus my high school experience would have been completely, irrevocably different.
15. Oasis, Definitely Maybe – Spring of my Senior Year. "I live my life in the city, there ain't no easy way out" - at that moment I became an Anglophile of the First Degree. By fall of 95' it was Stone Roses, Joy Division, Smiths, etc. Thank you Noel Gallagher.
14. Mazzy Star, So Tonight That I Might See – I had my first paranormal experience to this album, which leaves an impression on you. No, really – still makes the hair stand on my neck when I hear it.
13. Bruce Springsteen, Born In The USA – Bobby Jean felt nostalgic to me then, imagine what it feels like to me now.
12. Alice In Chains, Dirt – Every post-adolescent Michigan boy contemplates suicide at some point, and this is what it sounds like. Just kidding. Kind of.
11. The Rolling Stones, Sticky Fingers – My first Stones album. Sway was the moment that became a lifelong love affair.
10. REM, Automatic for the People – When I first heard Nightswimming, I knew there was a world somewhere so different, that would suit me if I could only get there. I wanted (want) to live inside that song.
9. Pink Floyd, The Wall – Wow, talk about obsession. I burned with this record for months at a time. "I got a strong urge to fly, but I got nowhere to fly to" – still one of my favorite lyrics ever written.
8. Bob Dylan, Bootleg Series Vol 1-3 – I bought this from Gautama Swami outside of Records & Tapes on Court St. It was the first Dylan "record" (it's a box set technically) that I had ever owned, and I found all the magic right there. Such an odd, back door-way into Uncle Bob. I had lifelong friendships forged over this.
7. The Doors, Self-Titled – There is a direct line between hearing The End for the first time and my everyday life today as an artist. Something shifted in me utterly.
6. Counting Crows, August and Everything After – My first real break up album. I found myself alone on the beach at dawn listening to It's Raining In Baltimore on my Discman with tears running down my face in La Jolla, CA. Honestly, it doesn't get much more poetic than that for a heartbroken 17 year old.
5. Guns N Roses, Use Your Illusion I & II – The Last Great American Rock N Roll Band legitimately changed my life, and I bet I've listened to Estranged over 5,000 times – which means I've heard it about 195,000 times less than Pete.
Side Note - Brian Coulliard skipped school to watch the premiere of Don't Cry and then came to Homeroom to break down the entire video, as the whole class sat around him in rapt attention. Easily the most culturally significant album release of my lifetime.
4. Pearl Jam, Ten – This record dominated my high school experience. If I listen to Release I can still feel the glow of my stereo lights in the dark. Side Note – I almost selected Vs. as it was the first album I ever skipped school to buy.
3. U2, Achtung Baby – Simple - it means more to me than any other record ever, with lyrics that I lived on. Nobody should listen to Love Is Blindness on repeat for weeks trying to understand heartache. Or maybe they should.
2. The Verve, A Storm In Heaven – I had never heard of them before I wandered over to the second stage at Lollapalooza and had my life altered in the most literal way possible. Second time I saw them at St. Andrews Hall in Detroit - they opened with A New Decade, and Richard Ashcroft ran to the edge of the stage and screamed COME ON!!! in my face. My life would never be the same. Today, I still listen to A Storm In Heaven regularly. I know this might sound strange, but I have listened more to this than any other album ever.
1. Led Zeppelin, Physical Graffiti – How do I accurately describe the impact this had on me? OK, how about this: I played Kashmir continuously on repeat for over 3 months – day and night, without stopping or pausing, for over 100 days straight. The Zeppelin Rule began there.