So weird to be sitting here listening to the new (that's right, new)
Guns N' Roses
album,
Chinese Democracy,
holding the sleeve in my hand, paging through the liner notes. To be honest, it is downright surreal, as this was truly a moment that I thought would never happen.
I am flooded with memories as I listen to this - it is possible that no other band brings back as many memories from growing up as GNR.
A
ppetite for Destruction
is the defining album of a generation, one that isn't quite my generation (I was a little young for it to truly be "mine", as I was more Generation X, a tag that I would have gagged on ten years ago) but certainly overlaps with mine. There can be no way to truly impart how significant this band was to kids growing up in the
Great Rust Belt
.
I can remember the first time I heard
Appetite
in it's entirety - in my cousin's bedroom on Southlawn Ct. This was different - this was a world away from the stuff on MTV - it seemed truly dangerous and desperate, raw and genuinely angry with the world. I first heard
Lies
in my church basement - I was starring in some kind of production, and someone came in with it on cassette. It had just come out, and "
Patience
" was everywhere. We all stopped what we were doing and huddled around the little boombox in the corner, and listened intently. It was a moment I will never forget, as we looked at each other in shock every time Axl swore, and we all felt weird by the time we listened to
"One In A Million"
.
When
Use Your Illusion I & II
came out, my mom had given me money to buy tickets to the homecoming dance. I had to make a judgment call, and I bought the
Ill
usions
instead of the tickets. My mother found out about this and gave me the money again, "only because I don't want that poor girl to not be able to go". I don't really remember anything about my freshmen homecoming dance, but I can tell you lots about the
Illusions
and their effect on my life. I remember sitting in class on the day that "
Don't Cry
" premiered on MTV (remember when they used to play videos?) and Brian Coulliard stayed home from school to watch it. He showed up to class and broke down the entire video for all of us, as we sat in rapt attention, hanging on every word - Axl is a green lizard thing, maybe he is dead, Izzy is missing, they are on top of a building, Axl is in the snow with a gun, etc. These details were incredibly
important
to us - that is the thing that you must understand - GNR was very, very
important
to us. GNR defined my junior high and high school years, when the deepest impressions are made.
By the time the
Spaghetti Incident
came out, I was well into high school. My good friend (to this day) Tim Noack and I listened to the entire album together on the phone - track by track, discussing each and every song in it's entirety. I guess this was my introduction to
The Stooges
and
The Sex Pistols
, two bands that would soak up a TON of my time in the decade and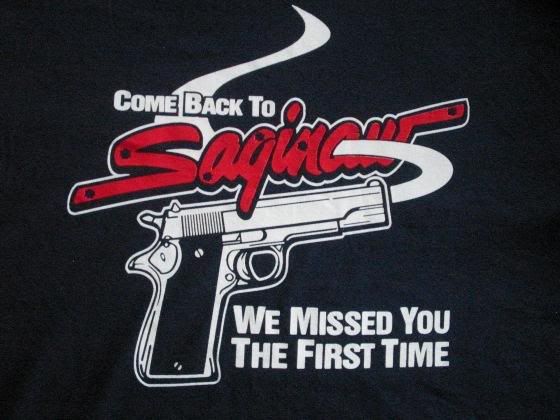 a half that followed. There are no words to describe how important GNR was to us - each release was a big event.
This was a band full of rock stars, in fact the Last American Rock Stars. They even had super-heroe names - Axl, Slash, Izzy, Duff, and Steven 'Popcorn' Adler. They had the best videos - "
Paradise City
" instantly comes to mind from the early era, though "
Patience
" and every concept video ("
Estranged
", "
Don't Cry
", "
November Rain
") from
Use Your Illusion I&II
were awesome
. They had the best guitarist of their generation, Slash, a living legend and my favorite American guitarist of all time.
But Axl, wow - screwed up, possibly insane - though he came to embody the Hollywood rock of the era, Axl could only have come form the Midwest. Axl is still revered back in my hometown in Michigan. That is another strange thing - the two most played musical forms in Saginaw (AKA the Nasty) are hip hop and metal, but
Appetite
is played so often that it could have been released last week. GNR (and
Appetite
era GNR in particular) are like the Patron Saints of Saginaw - it is truly amazing to me how inescapable they are in Michigan.
I could write an entire book about the legacy of GNR, but instead I will sit back and listen to the pseudo-GNR album (because it is only Axl involved - I like to refer to them as "Dudes & Roses"),
Chinese Democracy
. I sit here and listen to Axl's voice, one that I have not heard in many years, and feel like I am listening to my youth, or to an old friend that has called after a long period of silence.